Working Together, Alone At Home
In a dystopian future, employees are all working from home. John is one of them. He lives in the abandoned City of London, alone with his thoughts. He often dreams about how they colleagues may look like. In Real Life.
Fiction
Work, Technology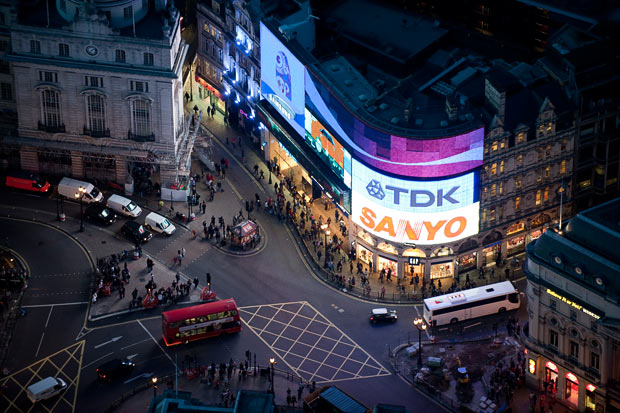 The alarm clock woke me up again. Time to go to work. I took a quick breakfast because I was already late, then headed to my desk. The computer started and connected me to my organisation' private network. My colleagues were already logged in. A chat window popped up on my screen. It was my boss.
– MDC1: Good morning MDC6. You're late. I just sent you some consumer data, could you please have a look and analyse it?
– Me: Sorry MDC1. OK I will.
I looked through my window and all the streets were empty, as usual. I live in the City of London so it is mostly a residential area, you know. My father once told me that these same streets were buzzing, filled with business men going to their offices. This was before companies started selling their buildings to reduce costs. They started asking their employees to bring their own computers to work. They saved a lot of money this way, and employees were happy to replace the old office computers by their own brand new devices. Then they wanted to reduce their costs even more, and they asked employees to go work from home. Offices were expensive, especially because the property market was to tense. So they sold all their offices, and these became either data centres or affordable flats. My father told me this is why we moved to the City. We almost all work from home, so it does not really matter where we live since we do not have to commute. Sometimes I wonder how it might have felt to work in an office buzzing with people. I saw pictures of employees laughing at a coffee machine. They seemed happy. Why do I have to be alone in a flat?
 – MDC1: Stop dreaming MDC6. I see in my log screen that you haven't moved your mouse nor touched your keyboard. I hope you're not working on paper, because I can't control it and you know it's forbidden.
– Me: Sorry MDC1, I was just thinking about the project. I'll start now.
I opened the data and did some random clicks. I know my screen was being monitored so I had to make it look like I was working on the project. I hate my boss. He or she is always on my back. Did I tell you that I do not know neither the name nor the gender of my boss and colleagues? They could be robots and I would not even notice… When people started working from home, HR tried many new management methods. Apparently, the anonymity allowed by computer-mediated communication strengthened social identification. They made us anonymous to reduce our self-focus and individualities, my father said. Then they forbade us to meet in real life and use our own co-working spaces. They said employees were spending too much time small-talking and having affairs. Finally, they banned video-conferencing to reduce discriminations and increase objective and task-focused judgements. Now I just feel like talking to robots all day…
 – MDC3: Hey, do you need help? I have some time on my hands
Except MDC3. He or she is the best "friend" I have at work. Sometimes I dream about us meeting in real life, having a coffee break together or something. We seem to be close, but maybe it is because anonymity makes us focus on what we have in common and ignore our differences.
 – Me: How have you been?
MESSAGE DELIVERY FAILED, SUPERVISOR ALERTED
Of course, we are not allowed to chat about anything unrelated to work.
 – Me: Yes please, I'm going to ask the boss if that's ok.
MDC1 joined the conversation
I hate it when my boss does that. I felt crushed by the pressure and got back to work. Time passed slowly until 7 pm.
 – MDC1: Day's over. See you tomorrow.
I disconnected, took my coat and went out. Streets were empty and it was pouring down. A few trucks were out for shopping delivery. I was heading to the last cinema of London to meet Richard, my only friend in the UK. Once again, I remembered what my father said about the time he went to school. He met a lot of friends there. We do not have that chance any more. I went to school online, alone with my parents, using Massive open online courses – MOOCs as we called them. Politics realised a single teacher could teach thousands of students online, so they closed schools down. Millions of pounds were saved. Some students complained, missed the real social contact. But those were ill-adapted to the new virtual workplace anyway so they were ignored. The friends I met in my class and those I met in my online games come from all around the world. France, Japan, USA, Sweden. We never met in real life, we just hang out online. This is why streets are so empty and crime is so low. Everyone is living their rich connected lives at home now.
It was a long journey toward the cinema, Portobello Road in Notting Hill. The tube and bus stations have been shut down a long time ago. There were still a few taxis left, but not many. I arrived in the small cinema owned by my friend Richard.
 – Hey Richard, how have you been?
– Hi John, it's been a while! Things are going ok, I don't have a lot of clients any more you know. What about you?
– Not really… I'm concerned about my job.
– What about it?
– There is this colleague. I don't know anything about him or her and that bothers me.
– And of course you can't ask anything private and meet in real life.
I looked down. I was ashamed by my job, my employer, the way society went wrong at some point. Richard had such a nice job, owning his cinema, meeting people actually interested in meeting other people in person.
 – Come on John, don't worry. Look at me. I know someone who may help.
He handed me a business card. I did not even know some were still made in paper. I took it as if it were of great value.
 – That's Rick, a fellow cinema enthusiast. He works in a data centre nearby. He has some access, you know what I mean. He should be home now. You should drop by and have a chat.
– Thanks Richard, I really appreciate!
– Any time mate, good luck.
I saw him smile. Something rare these days. I smiled as well. I looked at the business card. Piccadilly Circus. It was still raining hard and I put my hood back up to pay Rick a visit. I had the chance to find a taxi within half an hour. I arrived quickly and looked at the buildings. I remembered seeing a picture of Piccadilly Circus lightened by giant and colourful screens. There were no such screens any more. Nobody was left to look at the ads. And what was the point of showing one single ad to hundreds of different people anyway? I looked at the names on the doorbell. Only one was handwritten: Rick. I ringed at his door.
 – Yes, who is this?
– Hi, I'm John. A friend of Richard from the cinema.
– Cool, come up. Second floor, first door on the right.
The door opened and I entered. I took the elevator and Rick was waiting for me. He was a tall and handsome guy. We shook hands and he allowed me inside. The flat was richly decorated. Data centres technicians were the new traders. They were ruling the world now. But there was something different about his place. He had books and DVDs in the shelf. I was impressed.
 – Nice to meet you John. I appreciate when people throw their goddamn asses into the world to pay me a visit.
– Me too Rick. Is that a Bradbury's book?
– Haha yes mate. You can have it if you want, I trust you. I already read it hundreds of times.
– Thanks!
We sat down and he poured me a whisky. I looked at the bottle and smiled. Dalwhinnie. It meant "meeting place" in scottish Gaelic.
 – So what can I do for you?
– I work in this big company, McDouglas Consulting, also called MDC. There is a colleague I'd really want to meet. In Real Life, you know. But we can't arrange this.
Rick thought for a while, taking a sip of his whisky, and answered with a grin.
 – I guess it's your lucky day, you bastard. I remember seeing McDouglas Consulting in one of my logs. They're in my data centre! What's your colleague's ID?
– MDC3. Mine is MDC6.
– I'll see what I can do. Write me your address down.
He took me by surprise by handing me a piece of paper and a pen. It has been a while, I was hesitant. I finally took the pen, wrote my contact details and handed the paper back. It felt good.
 – Thanks. I'll drop a postcard!
– Wow!
We had some small-talk, finished the whisky and waved goodbye. I took the elevator down.The rain has stopped and it was dark. I decided to walk back home, alone with my thoughts and hopes.
---
I was awake long before the alarm clock. I went to my door to check my mail, and it was already there. A small postcard with a picture of bright and colourful Piccadilly Circus. I grabbed it impatiently. My address was written on the back.
 John DAWSON Floor 5, Flat 16 100 Queen Victoria Street London EC4V
Next to it were the contact details of MDC3 I'd dreamt about for so long. I frowned.
Amy VOIGHT-KAMPFF Floor 6, Flat 32 100 Queen Victoria Street London EC4V
So close and yet so far away… I was deeply ashamed. I could not even put a face to her name. Should we meet? Is it too risky? What will I say to her? What if we do not like each other? I was nervous but I knew this was it. This was the moment I was waiting for so long. The moment at which I could finally understand what it meant to have a colleague, share a laugh or a coffee break. Or even more, who knows? Fortune favours the bold.
I logged in the computer and typed down.
 – Me: I'm on my way
– MDC3: ?
MDC1 joined the conversation
– MDC1: ?
MDC6 left the conversation
I ran out of my flat, filled with joy and relief. And for once I took the stairs.